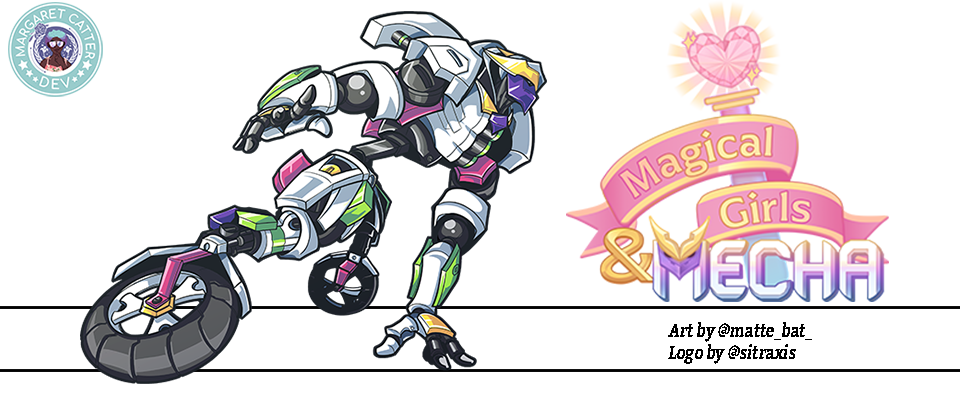 Magical Girls & Mecha
A narrative first diceless discord based play by post game about magical girls and giant robots. A roleplay community game themed around family - birth, adopted & found- first experiences and how seemingly random events can bring people together to do impossible things.
Magical Girls & Mecha offers a vast & deeply customizable roleplaying experience for a wide range of players from any skill level. With this system and setting you can take this story in any way you imagine. It is best with a group of 3-5 players and 1 GM as a persistent campaign.

While titled Magical Girls & Mecha, the magical girls in question is reference to the subgenre of mahō shōjo anime, manga and light novels. It is not a side of the binary that is enforced within the confines of this game system. Anyone no matter your gender identity is welcomed and encouraged to play.
✨✨✨
The discovery that you are a magical girl is like what you'd imagine skydiving felt like, exhilarating and terrifying all at once. Thankfully you skip the denial phase - you later hear that some of the girls don't take their new found status very well, which baffles you. Like you get to fight evil and have a mecha companion while doing so.

Your first fight with The-Once-From-Before goes well all things considered. No one dies, only a few people get hurt - mostly from tripping and falling - and you and Peach Sprint take care of The-Once lickity split quick. The Once-From-Before looks like how you'd imagine a childs under the bed monster would look - which is a joke because you are in fact still a child yourself.
The fight itself is weird when you try to remember it, like your mind is trying to protect you from the details. You know it's fast and you know you get hurt but when you try to give a recap later on you freeze and struggle, you wonder if you hit your head too hard. Despite being a magical girl you do still better if it's you who gets hurt. You who heals better and faster than an ordinary person. One of your bruises you know is from stepping between the Once and a group of school girls giving them enough time to flee to safety. Which is also a joke because you're just a school girl yourself.
It moves ridiculously fast for something its size and you and Peach have to move faster, push yourself harder, do more, do better. It's your first fight and it can't be your last fight. Your commands to Peach Sprint are rushed and sloppy, you don't really know what you're doing flying on a wish and a prayer. Like something held together by gum and duct tape.
It's invigorating though, you remember that, the details may be lost on you but the feelings, those you know. There's fear, you don't have time for it but you also can't deny it's presence. There's exhilaration because holy heck you're really doing this, this is a real thing that's really happening and wow there's that fear again. That moment you remember well cause you take a hit to the chest that you still feel now, after, your poor ribs. You won't make that mistake twice.
✨✨✨
Included with the purchase of this game are the following:
The GM & Player Guidebook
The Example Book
Original concept art for NPC August Erika Summers, the Summer Magical Girl and her companion mech Peach Sprint
Essentially limitless amounts of possibilities of stories that can be told
Coming Soon are the following:
Different NPC characters to flesh out the world of the Neo Cities
More original concept art for NPCs & the world
World Maps and ship layouts
Purchase
In order to download this game you must purchase it at or above the minimum price of $20 USD. You will get access to the following files:
#MagicalGirlsAndMecha _ Guidebook V1.1.pdf
6 MB
#MagicalGirlsAndMecha _ Example Book_V1.pdf
720 kB